 Bigge and 2Pac
Before he got Makaveli, The Game had twin Pitbulls named Biggie and 2Pac which he had to rehome. In September 2010, he posted this on Facebook, "Their good dogs….. twin pitbulls named "Biggie & 2Pac" & i hate to let em go but my kids gettin older & i need the backyard for them."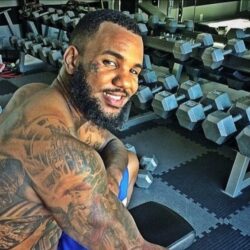 Birthday
November 29, 1979 (43)
The Game is a rapper and actor from Los Angeles, California. He began his music career in the early 2000s, releasing his debut album, "The Documentary," in 2005. The album was a commercial and critical success, debuting at number one on the US Billboard 200 and receiving a Grammy nomination for Best Rap Song.
Since then, The Game has released several successful albums, including "Doctor's Advocate," "LAX," and "The R.E.D. Album." He has collaborated with numerous artists throughout his career, including 50 Cent, Lil Wayne, Kendrick Lamar, Snoop Dogg, and Nas. The Game has also been associated with Dr. Dre and his label, Aftermath Entertainment, for much of his career.
Aside from music, The Game has also pursued acting, appearing in several films and television shows, including "Waist Deep," "Street Kings," and "Sons of Anarchy." He has also been involved in various business ventures, including a clothing line, a shoe line, and a record label.