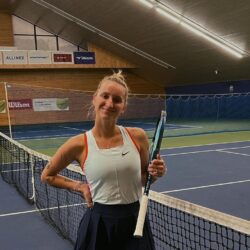 Birthday
June 28, 1999 (24)
Markéta Vondroušová is a Czech professional tennis player who has established herself as a force in the global tennis arena. Holding a career-high ranking of world No. 9 by the Women's Tennis Association (WTA), Vondroušová achieved a significant milestone by becoming the first unseeded woman to win the Wimbledon singles title in 2023. Prior to her Wimbledon triumph, she was the runner-up at the 2019 French Open, where she became the first teenage major finalist in nearly a decade. Throughout her career, she has garnered two singles titles out of six finals on the WTA Tour and also clinched a silver medal at the 2020 Tokyo Olympics.
A former junior world No. 1, Vondroušová showcased her prodigious talent early on, winning major doubles titles in the junior category. She broke into the WTA Tour with significant impact, capturing the 2017 Ladies Open Biel Bienne title at the age of 17 in just her second career WTA Tour singles event. Her swift ascent into the top 100 rankings before turning 18 further attested to her potential. Vondroušová is known for her exceptional returning game, having led the WTA Tour in percentage of return games won and return points won in 2019.
Vondroušová's career has not been without challenges, as she struggled with injuries that led her to miss the latter half of the 2019 season. However, her resilience and signature drop shot have made her one of the most captivating players on the tour. Using her protected ranking, she has continued to excel, reaching significant rounds at major tournaments such as the Australian Open and Indian Wells Open. As of 2023, Vondroušová has reached the fourth round in all Grand Slam tournaments, showcasing her adaptability and consistency across different playing conditions.