 No Pets (Ice Spice)
Rapper Ice Spice does not have a cat, dog, or any pets.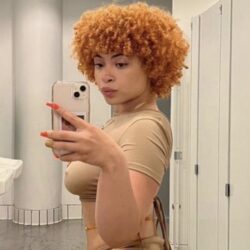 Birthday
January 1, 2000 (23)
Ice Spice, born Isis Naija Gaston, is an American rapper known for her contributions to the music industry. She gained recognition with her unique and relaxed rapping style, captivating audiences with her distinctive flow and lyricism. Ice Spice's journey to success began in 2021 when she crossed paths with record producer RiotUSA while attending the State University of New York at Purchase.
One of Ice Spice's notable achievements is her breakout single, "Munch (Feelin' U)", which skyrocketed to viral popularity on TikTok. This track served as a springboard for her subsequent releases, such as "Bikini Bottom" and "In Ha Mood", leading up to her highly anticipated debut extended play, Like..? (2023). Ice Spice's collaborative effort with Lil Tjay, titled "Gangsta Boo", marked her first entry on the esteemed US Billboard Hot 100 chart.
Ice Spice has had the privilege of collaborating with numerous esteemed celebrities and artists throughout her career. She has joined forces with the likes of PinkPantheress on the remix single "Boy's a Liar Pt. 2," which achieved a top-five position on the Hot 100. Furthermore, her collaboration with the iconic Nicki Minaj on the remix of "Princess Diana" also reached the top five of the chart. Ice Spice's recent remix of Taylor Swift's "Karma" further solidified her reputation as a rising star in the music industry.