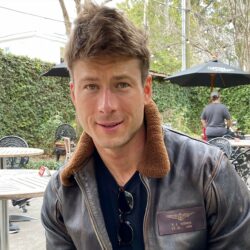 Birthday
October 21, 1988 (34)
Glen Powell is an American actor known for his roles in both film and television. He is best known for his performances in the popular TV series "Scream Queens" and "The Expendables 3" film with Sylvester Stallone, Jason Statham, Mel Gibson, Wesley Snipes, Dolph Lundgren, Harrison Ford, and Antonio Banderas.
Powell has had the opportunity to work with several high-profile artists and celebrities throughout his career. He appeared alongside Tom Cruise in the film "Top Gun: Maverick" and had a supporting role in the acclaimed Netflix film "Set It Up" with Zoey Deutch. Powell has also appeared in the biographical film "Hidden Figures," and he played a small part in "The Dark Knight Rises," directed by Christopher Nolan.
Throughout his career, Powell has received critical acclaim for his performances. He was nominated for a Screen Actors Guild Award for his role in "Hidden Figures," and he has received praise for his work in the independent film "Everybody Wants Some!!" directed by Richard Linklater.