 No Pets (Aisha Hinds)
Aisha Hinds does not have any reported pets.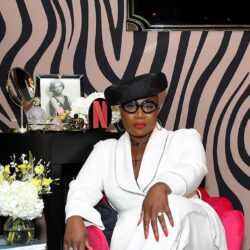 Birthday
November 13, 1975 (47)
Aisha Hinds is an American actress prominently recognized for her diverse roles across both film and television. From her gripping portrayal of Harriet Tubman in the historical drama "Underground" to her thought-provoking character in the series "9-1-1," Aisha's commitment to authenticity has shone through in every role she's undertaken. Films such as "Star Trek Into Darkness" and TV shows including "True Blood" and "Detroit 1-8-7" have all benefitted from her distinctive touch, making her a treasured gem in the cinematic world.
Collaborations have been instrumental in shaping Aisha's career. Over the years, she has shared the screen with a gamut of accomplished personalities. Among these are J.J. Abrams, the filmmaker behind "Star Trek Into Darkness"; Lena Waithe, during the ambitious project "The Chi"; Aldis Hodge and Jurnee Smollett on "Underground"; Angela Bassett in "9-1-1"; Kevin Bacon in "The Following"; Chadwick Boseman in "Gods of Egypt"; and James Spader in "Boston Legal," to name a few.
She has garnered several honors, cementing her status as an industry heavyweight. One of the most poignant was her Satellite Award nomination for her role as Harriet Tubman in "Underground," a testament to her capability to inhabit and breathe life into iconic figures. Moreover, her performance in "Shots Fired" not only resonated with viewers but also secured her a nomination at the Black Reel Awards.