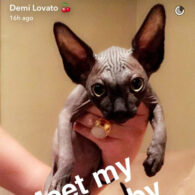 Little Lovato
In April 2016, Demi Lovato unveiled her brand-new Sphynx kitten on Snapchat. Unfortunately, Demi was forced to return her the very next day due to serious allergies. But memories last forever, and even though it may have only been a day, I'm sure Demi will remember how she felt when she first saw the hairless critter.
Batman
For Demi Lovato's 23rd birthday on August 20, 2015, her boyfriend Wilmer Valderrama gifted her an adorable Yorkipoo puppy named Batman. The couple had a Maltese mix dog together named Buddy which had a tragic accident earlier in the year. Batman was first spotted on Lovato's Twitter and he has made headlines since adoption.
Demi Lovato, born August 20, 1992, is an American singer, songwriter and actress. Demi made her debut as a child actress in Barney & Friends. She rose to prominence in 2008 when she started in the Disney Channel television film Camp Rock and signed a recording contract with Hollywood Records. Musically, Lovato is considered a pop, pop rock, and R&B artist. Lovato has won a number of awards, including an MTV Video Music Award, 13 Teen Choice Awards, five People's Choice Awards, an ALMA Award, and a Billboard Touring Award. In 2013, Maxim ranked her 26th on its Hot 100 list and Billboard ranked her second on its Social 50 Artists of the Year list.