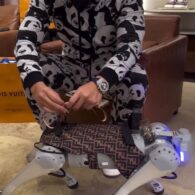 Mr. Chu - Robot Dog (Dog)
German Rapper Ufo361 has a pet robot dog named Mr. Chu. While Mr. Chu can't get cold, it doesn't mean he can't look good, so his nice human is seen below getting him a Fendi coat. Mr. Chu's robot dog breed is Unitree Go1, which is made by Unitree Robotics and costs $2,700 USD and up. Many who aren't as familiar with robot dog breeds as this author might mistake Mr. Chu for a SpotMini, which is Boston Dynamics' famed robot dog that costs $74,500 USD. (Jeff Bezos is a proud dog dad of a SpotMini)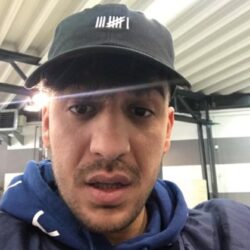 Birthday
May 28, 1988 (35)
Ufo361, real name Ufuk Bayraktar, is a German rapper known for his unique style of mixing rap and trap music. He has become a prominent figure in the German rap scene, gaining a large following due to his catchy beats and relatable lyrics. Ufo361 has released multiple albums, mixtapes, and singles throughout his career, including his debut album "808" in 2016, which reached number 44 on the German charts, and his second album "Ich bin ein Berliner" in 2017, which reached number 6.
Ufo361 has collaborated with several well-known artists in the music industry, such as Gzuz, RAF Camora, and Bonez MC. In 2019, he worked with rapper Future on the song "Big Drip" and released the hit single "Fruits" with rapper Yung Hurn. He has also worked with influencers such as Juju and Mero, creating popular songs such as "Paradies" and "Nummer 1".
Throughout his career, Ufo361 has received numerous accolades and achievements, including multiple gold and platinum certifications for his albums and singles. He has also performed at several notable events, such as the splash! Festival, one of the largest hip-hop festivals in Germany. In addition, he has won awards such as the Hiphop.de Award for "Best Album" and the Echo Award for "Best Hip-Hop/Urban National".