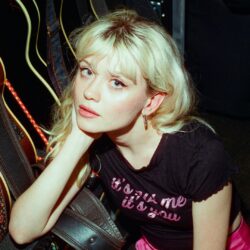 Birthday
May 28, 2000 (23)
Maisie Peters is a British singer-songwriter who has made a name for herself in the music industry with her heartfelt lyrics and soulful voice. With over 2 million monthly listeners on Spotify, Peters has become a force to be reckoned with in the world of indie-pop. Peters started her music career by uploading covers of popular songs to YouTube at the age of 12. She later started writing and performing her own original music and gained a following on social media. In 2017, Peters released her debut single "Place We Were Made," which quickly gained attention and was featured on several popular Spotify playlists. She followed up with the release of her debut EP "Dressed Too Nice for a Jacket" in 2018, which cemented her status as a rising star in the music industry.
One of the milestones in Peters' career was the release of her debut album "You Signed Up For This" in 2021. The album features 14 tracks, all of which were written or co-written by Peters. The album includes collaborations with several well-known artists, such as JP Saxe, James Bay, and Griff. The album received critical acclaim and debuted in the top 40 on the UK Albums Chart.
Peters has collaborated with several celebrities and influential people in the music industry. In 2020, she collaborated with JP Saxe on the hit single "If the World Was Ending," which earned them a nomination for Song of the Year at the 63rd Annual Grammy Awards. She has also worked with James Bay on the track "Funeral" and performed with Lewis Capaldi at the O2 Shepherd's Bush Empire in London. Additionally, she has collaborated with Tom Walker, Mae Muller, and Dodie Clark.