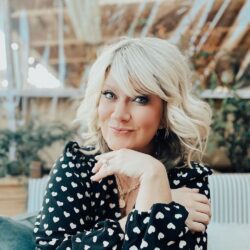 Birthday
December 21, 1971 (51)
Natalie Grant is an American singer-songwriter predominantly recognized for her heartfelt contributions to the contemporary Christian music scene.
Beginning her musical journey in 1999, Grant quickly made a name for herself with her stunning vocal range and deeply emotive songwriting. Her breakout album, "Awaken," released in 2005, showcased a unique blend of pop, rock, and gospel influences that elevated her into the spotlight. Following albums such as "Relentless" and "Love Revolution" were celebrated for their thoughtful reflections on faith and humanity, solidifying her status as a significant voice within Christian music.
Throughout her career, Natalie has consistently shared the stage and studio with a host of other talents. A notable example is her duet with award-winning singer-songwriter Jason Crabb on the song "When I Leave The Room." Additionally, she's performed alongside Bernie Herms, Matthew West, Steven Curtis Chapman, and Danny Gokey, among others. From lending her voice to Michael W. Smith's "Surrounded (Fight My Battles)" to joining forces with NewSong for "When God Made You," Grant's collaborations illuminate her commitment to promoting unity and positivity through music.
Grant's exceptional musical output has led to several noteworthy recognitions. She has received the Gospel Music Association's Dove Award for Female Vocalist of the Year seven times, an unprecedented achievement illustrating her enormous impact on the genre. Albums like "Hurricane," which topped the Billboard Christian Albums chart.