 Muffin
Elvis had a pet Great Pyrenees and he gave the giant dog the cute lil' name of Muffin.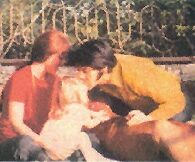 Brutus and Snoopy
Elvis had two Great Danes named Brutus and Snoopy. These two big dogs were gifts from his wife Pricilla. Snoopy was known as their daughter Lisa-Marie's favourite pet dog. And Brutus is known for appearing in the Elvis film Live a LIttle, Love a Little (1968). Brutus is pictured here. Woosh, Oswald, and Michael Edwards
Elvis had three dogs named after characters in his musical It Happened at the World's Fair (1963).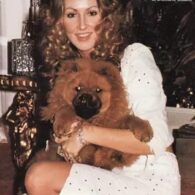 Get Lo (Getlo)
Get Lo was Elvis's pet Chow Chow. This dog is famous for when Elvis leased a Learjet to fly him to get emergency treatment for his kidneys, before flying him home three months later. Sadly, Get Lo passed away a few months later. Get Lo is pictured here with Elvis' girlfriend Linda Thompson. Mynah Bird
Elvis didn't have Twitter, so you can bet his phone was ringing off the hook 24/7. This led to his pet mynah, a parrot-like bird, learning to repeat phrases such as "Elvis isn't here," "Elvis is asleep," "Elvis is busy," etc. We're not sure what this avian personal assistant is named, but it lived in a large cage in Elvis' kitchen. Bowtie
Elvis had a pet turkey named Bowtie. Peacocks
Elvis, with costumes that would make a peacock jealous, also had a few as pets. It's said the peacocks kept scratching the paint on his cars, so they were rehomed at the Memphis Zoo. Jayhew
Elvis' first pet monkey was a spider monkey named Jayhew, which he got in 1956.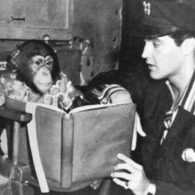 Scatter
Possibly inspiring Michael Jackson to get Bubbles, Elvis bought a chimpanzee in 1961. Scatter the chimp wore human clothes, hung out with Elvis and friends, drank whiskey, and even appeared alongside Elvis in several films. Scatter was always known as a troublemaker, which included him once running into Elvis' producer's office and destroying it, with security escorting him out. Bambi
Bambi was Elvis' pet squirrel monkey, who he got as a gift from the Lewis family for Christmas in 1966. This family were superfans of Elvis, and often hung around outside the gates of Graceland. This seemed to not give off any stalker vibes as he invited the family out to the cinema several times. Elvis and his wife Priscilla loved the pet squirrel monkey and eventually hired Mr. Lewis as a gate guard.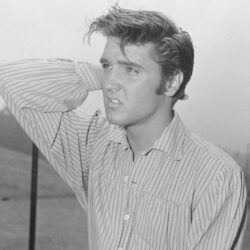 Birthday
January 8, 1935 (88)
Elvis Presley was an American singer and actor who lived from January 8, 1935, to August 16, 1977. Known as the "King of Rock and Roll" and "The King", he is one of the most influential and well-known cultural figures in modern history, Elvis is also the best-selling solo music artist of all time, according to the Guinness World Records. He won three Grammy Awards and received the Grammy Lifetime Achievement Award at age 36. Elvis also had a successful career in film, which often included his music.
Elvis' Graceland was a family farm, horse stable, and exotic animal zoo
Elvis and Priscilla Presley loved all animals and similar to the 2nd best-selling solo performer Michael Jackson and his Neverland Ranch, Elvis' Graceland Ranch was home to many exotic animals. Graceland with its 14 acres of land also served as a farm for the Presley family.
Graceland was purchased in 1957 and on its farm, Elvis' mother Gladys and father Vernon raised pigs, goats, donkeys, cows, chickens, turkeys, ducks, and other animals. A life-long horse lover, Elvis had many on his farm. farm. Graceland was home to exotic animals such as wallabies, monkeys, and peacocks, but there were eventually given a better home at the Memphis Zoo.
How many dogs did Elvis have?
Elvis had eleven dogs in his adult life and had several as a child. Growing up, he had two dogs named Muffy Dee and Woodlawn. As an adult, Elvis' eleven dogs were: Sherlock (Basset Hound), Muffin (Great Pyrenees), Brutus and Snoopy (Great Danes), Champagne (Poodle), Get Lo (Chow Chow), Edmund (Pomeranian), Baba (Border Collie), along with Woosh, Oswald, and Michael Edwards (unknown). He loved his dogs so much, several appeared alongside him in various feature films.
Elvis loved giving dogs and pets as gifts
Elvis liked giving dogs and pets as gifts to special people in his life. This included Sweet Pea, a dog he gave his mom Gladys in 1956. Duke was a second poodle he gave to Gladys, named after John Wayne. Honey, a poodle he gave to his wife Pricilla for Christmas in 1962. Little Bit was another poodle he gifted, which was to Anita wood, an early girlfriend of his. Puff was a cat he gave to his and Pricilla's daughter, Lisa-Marie. Foxhugh, a Maltese was given to Linda Thompson, one of his last girlfriends. Edmund was a Pomeranian that was originally his but gifted to his aunt Delta because the Pom and she got along so well.
Elvis loved horses and had many throughout his life
Elvis loved horses since he was young and was said that he tried riding them in his youth. He notably rode a horse in his first film Love Me Tender (1956). While living in Graceland, the first horse he bought was Domino, a quarter-horse, which was a gift for his wife Priscilla. He next got himself a horse which remained his favorite until his death, a Palomino named Rising Sun. Elvis and Priscilla's daughter Lisa-Marie had a horse named Mariah. Elvis also bought a horse named Sheba for Pricilla's good friend Sandy, so they could ride together.
Named after his favorite, his horse stable was called "House of the Rising Sun", which was also a reference to the song by The Animals. Here is a list of some of the many horses Elvis had over the years: Traveler, Keno, Buckshot, Star Trek, Bear, Beauty, El Poco, Thundercloud, Colonel Midnight, Scout, Golden Sun, Lady, Flaming Star, and more. He had so many horses he got a second ranch, called the Circle G Ranch, just to house them all.