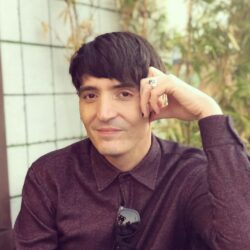 Birthday
July 21, 1975 (48)
David Dastmalchian is an accomplished American actor and writer who came to prominence with his role in Christopher Nolan's film "The Dark Knight".
His cinematic journey features a rich tapestry of roles that reflect his impressive range as an actor. He made his debut in the acting world with the riveting performance as the disturbed Joker's henchman in "The Dark Knight". His portrayal of Kurt in Marvel Cinematic Universe's "Ant-Man" series added a comedic touch to his portfolio, while his role as Piter De Vries in the highly anticipated 2021 remake of "Dune" showcased his skill in playing intricate characters. Dastmalchian's versatility was further on display in his first feature screenplay "All Creatures Here Below", which he also starred in.
Throughout his career, Dastmalchian has collaborated with a multitude of esteemed personalities. This includes director Christopher Nolan, Denis Villeneuve in "Blade Runner 2049" and "Dune", and Peyton Reed in "Ant-Man" series. His co-actors in various projects also constitute an illustrious list, from Paul Rudd and Evangeline Lilly in the "Ant-Man" series, to Ryan Gosling and Harrison Ford in "Blade Runner 2049", and Timothée Chalamet in "Dune". His work with Jennifer Morrison and Karen Gillan in "All Creatures Here Below" remains memorable for its collaborative creative endeavor.
In terms of honors and distinctions, Dastmalchian's work has been met with both critical and audience appreciation. His performance in "Animals" earned him the Special Jury Prize for Courage in Storytelling at the SXSW Film Festival. His writing in "All Creatures Here Below" garnered critical praise.