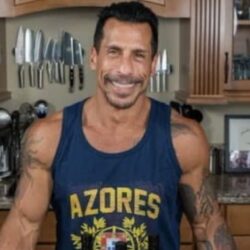 Birthday
May 14, 1969 (54)
Danny Wood is an American artist most recognized for his dynamic role as a member of the successful boy band, New Kids on the Block. Born in Massachusetts, Wood was a central figure in the creation of numerous memorable tracks. These include chart-toppers such as "You Got It (The Right Stuff)", "Hangin' Tough", and "Step By Step", which continue to resonate with audiences around the world. In addition to his work with the band, Wood also embarked on a solo career in the mid-2000s, releasing albums like "Second Face" and "Look at Me," which showcased his unique blend of pop, rock, and R&B influences.
Wood's musical prowess didn't stop at solo work and band contributions. His collaborations with various celebrities further broadened his artistic scope. He has shared the stage with the likes of Paul McCartney, Elton John, and Stevie Wonder. He has also collaborated with artists from different genres such as hip hop stars Salt-N-Pepa and the Backstreet Boys. Wood's cooperative work extended beyond music when he appeared with Hollywood celebrities such as Mark Wahlberg and Donnie Wahlberg in the Wahlburgers reality TV series, and participated in fundraising events alongside philanthropic powerhouses like Oprah Winfrey and Bill Gates.
While his artistic endeavors are impressive, Wood's accomplishments extend into the realm of recognition as well. Notably, New Kids on the Block received two American Music Awards for "Favorite Pop/Rock Band, Duo or Group" and "Favorite Pop/Rock Album." Moreover, Danny Wood was named Humanitarian of the Year at the annual Angel Awards for his significant contributions to breast cancer research, a cause close to his heart following the loss of his mother to the disease.