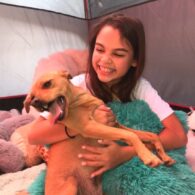 Foxy
Arina Greenblatt's BF is a rescue dog named Foxy.
This is my best friend, her name is Foxy and I adopted her from my local animal shelter. A day doesn't go by where she doesn't make me smile. I love her so much and if you ever thought about getting a pet remember its a big responsibility and they depend on you for everything but in exchange they will love you and give you lots of kisses. Please consider adoption, there are so many wonderful pets in shelters that are looking for there forever home so remember #AdoptDontShop #Rescue #AnimalRights Rescued is my favorite breed

@arianagreenblatt, Facebook, April 25 2019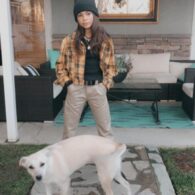 White Rescue Dog
Ariana Greenblatt showed off some fall classic outfits and a white doggo in an October 2019 Facebook post. She didn't share their name, but it's safe to assume she adopted the lucky pup.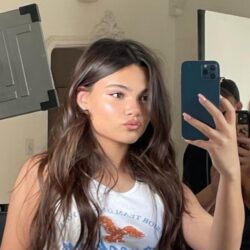 Birthday
August 27, 2007 (16)
Ariana Greenblatt is an American actress best known for her starring role in the Disney Channel's Stuck in the Middle (2016-2018). In 2023, she played the role of America Ferrera's daughter in Barbie, which starred Margot Robbie and Ryan Gosling.
Making her television debut in the popular series Liv and Maddie, Greenblatt quickly gained attention in the industry. However, it was her breakthrough role as Daphne Diaz in Disney Channel's Stuck in the Middle that put her on the map, allowing audiences to truly appreciate her acting prowess. This was followed by a memorable portrayal of young Gamora in the blockbuster hit Avengers: Infinity War, introducing her to an even broader audience. She continued to excel in her cinematic journey, with major roles in films like The One and Only Ivan and Love and Monsters.
Throughout her career, Greenblatt has had the opportunity to collaborate with a range of celebrated artists, strengthening her position in the industry. In Avengers: Infinity War, she shared the screen with actors such as Josh Brolin and Zoe Saldana. Greenblatt's role in The One and Only Ivan saw her working alongside renowned figures like Sam Rockwell, Angelina Jolie, and Bryan Cranston. In the film Love and Monsters, she starred opposite Dylan O'Brien, enhancing her credentials further. On the small screen, Greenblatt shared many scenes with Jenna Ortega and Isaak Presley in Stuck in the Middle. These collaborations highlight her versatility and adaptability in different acting environments.
Despite her young age, Greenblatt has been acknowledged for her performances with several awards. For her role in Stuck in the Middle, she received an Imagen Award nomination in the category of Best Young Actor. Her performance in Love and Monsters was recognized with a Young Artist Award for Best Performance in a Streaming Film or Television Show. Greenblatt was also the recipient of the PETA Libby Award for Best Voice for Animals in 2020, emphasizing her commitment to animal rights.
In fact, Greenblatt's advocacy for animal welfare extends beyond her professional life. An avid animal lover, she uses her platform to raise awareness about animal rights and promote the adoption of pets. She has been associated with non-profit organizations such as the Society for the Prevention of Cruelty to Animals (SPCA) and has participated in their campaigns.