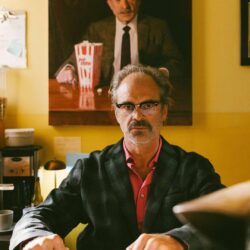 Birthday
November 4, 1973 (50)
Steven Ogg is a Canadian actor, widely recognized for his portrayal of Trevor Philips in the 2013 video game Grand Theft Auto V and Simon in the television series The Walking Dead. His career spans various mediums, including television, video games, and film, showcasing a diverse range of roles. Ogg's performances in Grand Theft Auto V and The Walking Dead have been particularly notable, earning him critical acclaim and a dedicated fan following.
Ogg's journey in the entertainment industry began with television appearances in shows like Law & Order and Third Watch. His breakthrough came with the role of Trevor Philips in Grand Theft Auto V, a character that became iconic for its depth and complexity. This role was a turning point in Ogg's career, leading to more significant opportunities. He further expanded his television presence with roles in popular series such as Better Call Saul, Westworld, The Tick, and Snowpiercer.
Collaborations have been a significant aspect of Ogg's career. In Grand Theft Auto V, he worked closely with actors like Ned Luke and Shawn Fonteno, who played Michael De Santa and Franklin Clinton. His role in The Walking Dead saw him acting alongside Andrew Lincoln (Rick Grimes), Norman Reedus (Daryl Dixon), and Jeffrey Dean Morgan (Negan). In Westworld, he shared the screen with Evan Rachel Wood and Ed Harris, among others. His appearance in Better Call Saul involved working with Bob Odenkirk, and in Snowpiercer, he collaborated with Jennifer Connelly and Daveed Diggs.
Ogg's talent and contributions to the entertainment industry have been recognized through various awards and nominations. His portrayal of Trevor Philips in Grand Theft Auto V earned him an award at the 3rd Annual New York Videogame Critics Circle Awards for Best Overall Acting in a Game.