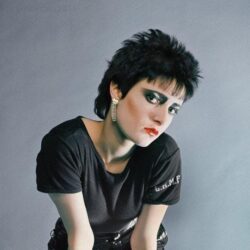 Birthday
May 27, 1957 (66)
Siouxsie Sioux, widely recognized for her influential role in the British punk and goth rock scenes, is best known as the lead singer of the band Siouxsie and the Banshees and the side project The Creatures. Her unique vocal style and dark, thematic subject matter, along with her distinctive style and sense of fashion, helped to set her apart in the music world and positioned her as an icon for the punk and goth genres.
Siouxsie and the Banshees' discography stretches from the late 1970s to the mid-1990s, featuring eleven studio albums, each of which further demonstrated Sioux's innovative approach to music and her willingness to experiment with different genres and styles. From their debut album "The Scream" in 1978, the Banshees established themselves as a force to be reckoned with in the UK punk scene. This album, along with later releases like "Juju" and "Peepshow," solidified Sioux's reputation for delivering a unique blend of punk, rock, and goth, often interweaving elements of psychedelia and electronica. Not to be confined by her work with the Banshees, Sioux also launched The Creatures with bandmate Budgie, releasing albums such as "Feast" and "Boomerang" that expanded on her musical diversity.
Over the course of her career, Siouxsie Sioux has had the opportunity to collaborate with a variety of notable figures across the music industry. These collaborations include working with Robert Smith of The Cure, who was a guitarist for the Banshees during two separate periods in the 1980s. She has also been involved with members of the Sex Pistols, including Sid Vicious, who played drums for the band at their first gig, and John Lydon, who was a close friend. Other key collaborators include Steven Severin, co-founder of the Banshees; Brian Reitzell, with whom she created the haunting soundtrack for the "Hannibal" television series; and fellow musicians such as John Cale, John McGeoch, and Marco Pirroni. In addition, Sioux's unique style and music have influenced numerous artists, from PJ Harvey and Massive Attack to Radiohead and The Smashing Pumpkins.
Sioux's significant contributions to the music industry have not gone unnoticed. In 2005, she received the Mojo Honours List's Inspiration Award, acknowledging the profound impact she has had on a generation of musicians. She was also awarded the Q Awards' Icon Award in 2012, a testament to her lasting influence and the groundbreaking nature of her work. The enduring popularity of her music is demonstrated by the fact that several of Siouxsie and the Banshees' albums have been certified gold or silver in the UK.