 No Pets (Oona O'Brien)
Oona O'Brien does not have any reported pets.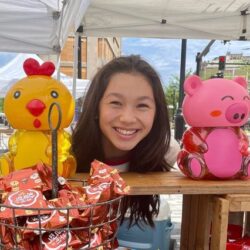 Oona O'Brien is an American actress best known for her role as Devon Lee in the fourth and fifth seasons of the Netflix series Cobra Kai.
Oona O'Brien's first significant appearance in the realm of acting was in Cobra Kai, where her performance captured the attention of viewers. Before landing this role, she had already started laying the groundwork for her career by featuring in commercials for brands like Nickelodeon and American Girl. She also showed her range by participating in five theatre roles, one of which was performed virtually. Her only other on-screen acting role before Cobra Kai was as Mia Savage in the short film Sky High.
Collaborations have been a cornerstone in Oona's career, even if it's still blossoming. On Cobra Kai, she worked closely with Ralph Macchio, William Zabka, Xolo Maridueña, Mary Mouser, Tanner Buchanan, Peyton List, Gianni DeCenzo, Jacob Bertrand, and Vanessa Rubio.