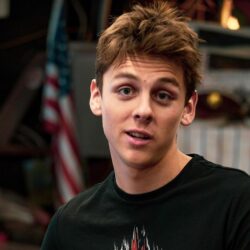 Birthday
March 6, 2000 (23)
Jacob Bertrand is an American actor primarily known for his role as Eli "Hawk" Moskowitz in the popular Netflix series "Cobra Kai," based on the iconic "Karate Kid" franchise.
Bertrand's journey into the world of acting began at a young age, with a string of appearances in children's shows, including "Bubble Guppies" and "iCarly." However, it was his role in Disney XD's "Kirby Buckets" that put him on the radar for young audiences. His pivotal role in "Cobra Kai" turned him into a household name, demonstrating his ability to encapsulate both vulnerability and fierceness on the screen. In addition to television, he also lent his voice to animated features such as "ParaNorman" and appeared in movies like "The Swap."
Jacob Bertrand has had the opportunity to collaborate with William Zabka, Peyton List, Tanner Buchanan, Mary Mouser, Gianni DeCenzo and Ralph Macchio in "Cobra Kai," Olivia Stuck and Mekai Curtis in "Kirby Buckets," and Dan Povenmire in "Phineas and Ferb." Others worth mentioning are Jace Norman in "Henry Danger," Miranda Cosgrove in "iCarly," Kodi Smit-McPhee in "ParaNorman," Anna Cathcart and Peyton Meyer in "The Swap," Brianna Gentilella in "Bubble Guppies," and Tiffany Espensen in "Kirby Buckets."
Bertrand's work has earned him recognition in various ways. He was nominated for the 2014 Young Artist Award for Best Performance in a TV Series – Leading Young Actor for his role in "Marvin Marvin." His role in "Cobra Kai" has also contributed to the show winning an MTV Movie & TV Award for Best Figh.