 No Pets (Nathy Peluso)
Nathy Peluso does not have any reported pets.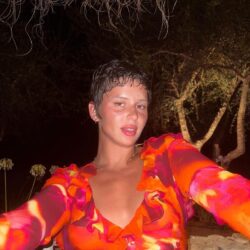 Birthday
January 12, 1995 (28)
Nathy Peluso is an Argentinian singer, songwriter, and dancer. Born in Argentina, and raised in Spain, she started performing at an early age with cover songs at bars. After graduating, Nathy began a professional music career and released Esmeralda (2017) and La Sandunguera (2018) independently. She was later picked up by Sony Music and released her debut album Calambre (2020) which won the e Latin Grammy Award for Best Alternative Music Album.
Peluso's collaborations with fellow artists have played a significant role in her musical journey. The Spanish producer Rafa Arcaute, who has worked with the likes of Juanes and Calle 13, produced her debut album "Calambre," which significantly elevated her status on the international music scene. She collaborated with the Spanish rapper Rels B on the track "No Se Perdona," a soulful piece that showcased her vocal versatility, further strengthening her foothold in the industry. She also made a noteworthy appearance on the remix of C. Tangana's "Ateo," adding her distinctive vocals to the hit track. The singer has also joined forces with musicians like Illmind, who has previously worked with artists such as Drake and Kanye West, and the pair's collaboration culminated in the rhythm-infused track "Delito," one of the standout songs from her album "Calambre." Furthermore, Peluso has worked with the famed Spanish musician El Guincho, known for his work with Rosalia, on the song "Sana Sana," which was nominated for a Latin Grammy in 2021. She has also collaborated with Christina Aguilera, Karol G.