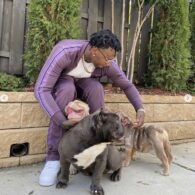 The "Savages"
Moneybagg Yo has three bulldogs which he often refers to as his "savages". He reportedly once bought Megan Thee Stallion as dog while they were together as well.
Birthday
September 22, 1991 (31)
DeMario DeWayne White Jr., know by his stage name Moneybagg Yo, is an American rapper. Moneybagg Yo is as a member of the rap group Bread Gang, which he co-founded in 2012. He gained recognition for his mixtapes, which he released independently and promoted through social media, building a loyal following online. He later signed with Yo Gotti's CMG record label, which helped to catapult his career to new heights.
A milestone in Moneybagg Yo's career was the release of his album "43VA HEARTLESS" in 2019, which debuted at number 4 on the Billboard 200 chart. The album, which features collaborations with several notable artists, including City Girls and Offset, showcased Moneybagg Yo's unique style and cemented his position as a rising star in the hip-hop industry.
Moneybagg Yo has worked with several high-profile celebrities and artists throughout his career, including Megan Thee Stallion, Lil Wayne, and Future. He has also collaborated with several prominent producers, including Tay Keith and Southside. His collaborations have resulted in several hit songs and viral moments.