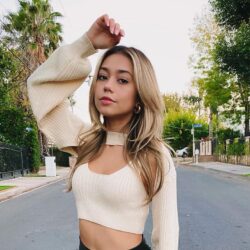 Birthday
October 25, 1997 (26)
Ivanita Lomeli, a Mexican-American social media sensation, carved a niche for herself through engaging content on YouTube, Instagram, and TikTok.
Lomeli's rise to internet fame can be attributed to her compelling YouTube channel, where she shares her life experiences, challenges, pranks, and relationship stories. A video titled "I'm Getting Married at 19", for example, has amassed millions of views, demonstrating her ability to captivate audiences. Additionally, her consistent presence on Instagram, with fashion-forward posts and lifestyle images, and creative videos on TikTok have garnered a considerable following.
An integral part of Lomeli's journey has been her collaborations with other influential personalities. These include her boyfriend Lucas Dobre, with whom she frequently shares content, and his brother Marcus Dobre. Additionally, she has appeared in videos with other internet sensations such as Brent Rivera, Ben Azelart, Lexi Rivera, Alan Stokes, Alex Stokes, Rebecca Zamolo, Matt Slays, Piper Rockelle, and Sofie Dossi.
In 2018, she was selected for the Fall Creator Launchpad Program by YouTube, an initiative that supports creators with resources to grow their channel.