Stanley C. Brown (Dog)
Hugh Laurie had two dogs, one was a chocolate labrador named Stanley or Stan for short. In 2019, Laurie announced via social media that Stan passed away and noted it was a privilege to have loved him. Laurie tweeted this tribute to Stan, "Stanley C. Brown departed this earth last night after 17 years. He was the dearest, gentlest, daftest, handsomest companion anyone could hope for. It was a privilege."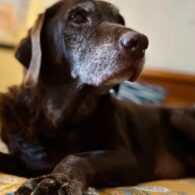 Bailey (Dog)
Hugh Laurie's second dog was Bailey, a labrador-retriever mix. Bailey sadly passed away in January 2023. Hugh tweeted out this tribute to him "Bailey has quit the scene, just shy of his 15th birthday. He wasn't an athlete or a radical thinker, but he was a gentleman, through and through."
Hugh Laurie is a British actor, comedian, musician, and writer who has enjoyed a successful career in the entertainment industry spanning over three decades. He is perhaps best known for his portrayal of the irascible Dr. Gregory House in the hit medical drama "House", for which he won several awards, including two Golden Globes. Laurie has also collaborated with several notable artists and celebrities throughout his career and is an advocate for animal welfare.
Laurie began his career in the 1980s as a comedian, performing with the Cambridge Footlights at the University of Cambridge. He went on to become a household name in the UK with his work on the sketch comedy series "A Bit of Fry & Laurie" with Stephen Fry and the comedy series "Blackadder" with Rowan Atkinson. He later made a successful transition to drama, appearing in several notable films, including "Sense and Sensibility" with Emma Thompson and Kate Winslet, "The Man in the Iron Mask" with Leonardo DiCaprio and Jeremy Irons, and "Tomorrowland" with George Clooney and Britt Robertson.
Laurie's breakthrough role came in 2004 with his portrayal of Dr. Gregory House in the medical drama "House". The series was a critical and commercial success, earning Laurie widespread acclaim for his performance. He won two Golden Globe Awards for Best Actor in a Television Series – Drama and was nominated for several other awards, including the Emmy Award for Outstanding Lead Actor in a Drama Series. Laurie's success on "House" helped to establish him as one of the most talented and versatile actors of his generation.
In addition to his work in film and television, Laurie is also an accomplished musician. He has released several albums, including "Let Them Talk" and "Didn't It Rain", which showcase his talent for playing the piano and singing the blues. Laurie has also collaborated with several notable musicians, including Tom Jones, Gaby Moreno, and Dr. John, and has performed at several music festivals, including the New Orleans Jazz & Heritage Festival.
Laurie is also a passionate advocate for animal welfare. He has supported several animal rescue organizations, including the Humane Society of the United States and the Battersea Dogs & Cats Home in the UK. Laurie has also used his platform to raise awareness about animal abuse and the importance of pet adoption, and has encouraged his fans to support animal welfare organizations.