Millie
Millie was Emma Watson's on-set hamster during the filming of Harry Potter alongside Daniel Radcliffe. Millie unfortunately passed away from a heart attack but had a beautiful funeral thanks to the Harry Potter film staff. See below for details.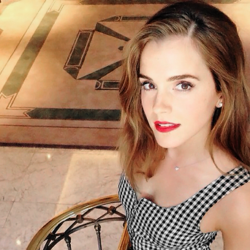 Birthday
April 15, 1990 (33)
Emma Charlotte Duerre Watson is known as Emma Watson. She is a supporter of animal rights and outspoken about their welfare and promotion of cruelty-free labels. Watson's known to like cats and has even played a half-cat half-human in Harry Potter, which was the movie series she gained international acclaim for. She's won numerous awards and acclamations for her work.
Emma Watson's Career
Watson is a British Actress, model and activist. Thanks mainly to the success of starring in J.K. Rowling's eight Harry Potter movies, she has an estimated net worth of $70 million. She wanted to be an actor since she was six and started training at the Oxford branch of Stagecoach Theatre Arts where she studied singing, dancing and acting.
By 10, she was performing in Stagecoach productions and school plays. At the age of 9, she was cast for very first on-screen performance as Hermione in the Harry Potter and the Sorcerer's Stone, which was released in 2001. She went on to star opposite Daniel Radcliffe, Rupert Grint, Jason Isaacs, and Tom Felton, in the following 7 sequels, which have estimated to have made over $7.7. Billion in ticket sales.
She is also well known as a women's rights activist and was appointed as a UN Women Goodwill Ambassador in 2014.
Emma Watson Pets
Emma has two cats, Bubbles and Domino. Unlike many of her celebrity colleagues, Watson's cats are not purebreds. Between the two mixes, one is white with a patterned face and is likely a calico mix. The other cat looks like a red tabby mix.
Watson's Harry Potter character Hermoine also had a tabby cat named Crookshanks. Crookshanks was played by two cats during the series, one a Red Persian named Pumpkin from the Isle of Man. And, the second was a male Red Persian named Crackerjack.
During filming of Harry Potter, Watson had an on-set hamster named Millie who unfortunately passed away from a heart attack. The set decorators built Millie small mahogany sized hamster coffin. It had a velvet lining and a silver plaque on the front which had the hamsters name engraved on it.