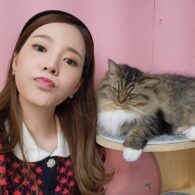 Nabi (Cat)
Sunny, a member of the popular South Korean girl group Girls' Generation, once took on the role of caretaker for a stray cat named Nabi. The feline was trapped and nearly lost its life but was miraculously rescued. Unable to find a permanent home, Nabi was welcomed into Sunny's care.
Sunny, born Susan Soonkyu Lee, is an American singer and actress primarily known for being a member of the South Korean girl group Girls' Generation. She has also made her mark in the South Korean entertainment industry through her diverse range of projects, including television hosting and musical theater.
Breaking into the South Korean entertainment scene as a member of Girls' Generation, Sunny quickly won hearts with her vibrant stage presence and versatile vocal range. Over the years, the group has released several albums that have topped charts, including "Oh!", "The Boys", and "Lion Heart." Sunny didn't stop at singing; she ventured into acting and television hosting as well. She showcased her acting skills in the 2008 Korean drama "Unstoppable Marriage" and has hosted various television programs such as "Roommate" and "Invincible Youth."
When it comes to collaborations, Sunny has an extensive portfolio working with a wide array of artists and celebrities. Notably, she has collaborated with Taeyeon, Tiffany, and Sooyoung, fellow members of Girls' Generation, on various projects. She's also worked with K-pop stars like Henry Lau, Eunhyuk, and Leeteuk. In the variety show realm, she's teamed up with figures like Kang Ho-dong, Yoo Jae-suk, and Shin Dong-yup. On stage, she has shared the limelight with musical theater actors like Michael Lee and Ahn Si-ha.
Sunny has received numerous honors for her work, leaving an indelible imprint on the entertainment industry. In 2015, she bagged the MBC Entertainment Award for her role in "Real Men: Female Soldier Special." She has also been honored with the "Best Female MC Award" at the 2014 SBS Entertainment Awards for her work in the show "Roommate."