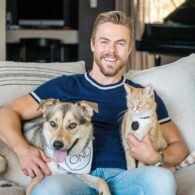 Rescue Cats and Dogs (Dog)
Derek Hough, along with his girlfriend, professional dancer Hayley Erbert, has opened their hearts and home to four rescue pets. This includes two German shepherd/husky mixes, one of which is a seasoned member named Romi and the other, a young pup called Luna. The pair also provide a loving environment for two rescued felines: Palo, an orange tabby, and Lily, a grey cat with striking green eyes.
Birthday
May 17, 1985 (38)
Derek Hough, an American dancer, choreographer, and actor, holds an influential role in contemporary dance and entertainment, gracing both television screens and stages across the globe with his captivating performances.
Hough's career catapulted into the limelight through his impressive appearances on the hit television show "Dancing with the Stars" (DWTS). His finesse and originality redefined the perception of ballroom dancing for many viewers, with Hough clinching six victories on the show — the highest in its history. The international audience marveled at his performances on the reality dance competition show "World of Dance" where he served not only as a judge but also showcased his multifaceted talent in memorable performances. His foray into the music industry also gained him significant recognition, with his debut single "Hold On" striking a chord with listeners.
In his vibrant career, Hough has partnered and collaborated with a slew of famous personalities. These include television personalities like Brooke Burke and Nicole Scherzinger, singers like Jordan Pruitt, Lil' Kim, and Kellie Pickler, and actors like Amber Riley and Jennifer Grey, all on DWTS. He also teamed up with Julianne Hough, his sister, for a dance tour titled "Move Live On Tour". Derek's charm has even reached the Olympic gold-medalist gymnast Shawn Johnson and actress Marilu Henner.
Hough's illustrious career is marked by several awards and honors that underline his impressive talent and dedication to dance and entertainment. He holds a record for winning the Primetime Emmy Award for Outstanding Choreography multiple times, a testament to his innovative and compelling dance routines. The Young Hollywood Awards recognized his contributions to dance with the award for Best Choreography, and he was also nominated for a Grammy for his contribution to the soundtrack of the movie "Make Your Move".