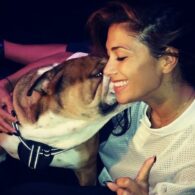 No Pets or Cats (Nicole Scherzinger)
Pussycat Dolls lead singer Nicole Scherzinger has no pets and somehow not even one cat. She was often seen with Lewis Hamilton's English Bulldog Roscoe, while she was dating Hamilton from 2008 until 2015.
Nicole Scherzinger is an American singer and actress best known as the lead vocalist of the girl group Pussycat Dolls. With chart-topping hits such as "Don't Cha" and "Buttons," the Pussycat Dolls achieved global success and established Nicole Scherzinger as a prominent figure in the music world.
Throughout her career, Nicole Scherzinger has had the privilege of collaborating with an array of esteemed artists and musicians, resulting in extraordinary musical collaborations. She has worked alongside acclaimed musicians like will.i.am on the chart-topping single "Heartbreaker" and 50 Cent on the infectious track "Right There." In addition, she has collaborated with renowned rapper T.I. on the hit song "Whatever You Like," showcasing her versatility as an artist.
Apart from her successful music career, Nicole Scherzinger has also ventured into the realm of acting. She has showcased her talent on the big screen, appearing in films such as "Men in Black 3" and "Dirty Dancing: Havana Nights." She has also served as a judge on reality TV talent shows such as "The X Factor" (US and UK), Australia's Got Talent", and "The Sing-Off."