Apollo (Cat)
Chloe Bailey has an American Shorthair cat named Apollo. Apollo was a gift from her sister Halle, who surprised her with it on New Years Eve 2022.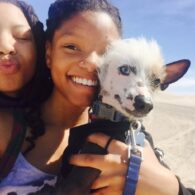 Common (Dog)
Chloe Bailey has a Chinese Crested dog named after the rapper Common. Some people have mistaken Common as her sister Halle's dog.
Chloe Bailey, also known by her mononymous stage name Chlöe, is an American singer, songwriter, and actress. As one half of the Grammy-nominated sister duo Chloe x Halle, Bailey has been making waves in the music industry since the release of their debut EP, "Sugar Symphony," in 2016. The EP garnered critical acclaim and caught the attention of Beyoncé, who signed both Chloe and Halle Bailey to her record label, Parkwood Entertainment.
Bailey's breakout role came in 2018 when she landed a lead role in the hit TV series "Grown-ish." The show is a spinoff of the popular comedy "Black-ish" and follows the character Zoey Johnson (played by Yara Shahidi) as she navigates college life.
In addition to her success in music and television, Bailey has collaborated with a number of notable artists and celebrities. She has worked with Grammy-winning producer and musician Jack Antonoff on the song "Do It" and collaborated with rapper Joey Bada$$ on the track "Joey Bada$$ x NAJA." Bailey has also been praised for her covers of popular songs, including her rendition of Cardi B's "Be Careful," which caught the attention of the rapper herself.
In 2023, she starred in Donald Glover's TV series "Swarm", alongside Dominique Fishback and Damson Idris.