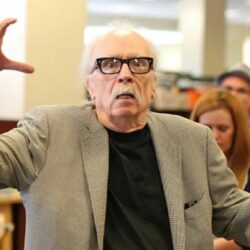 Birthday
January 16, 1948 (75)
John Carpenter is an American filmmaker, musician, and screenwriter who has had a profound impact on the horror and sci-fi genres. Carpenter has been making films since the 1970s and has become one of the most influential filmmakers of his generation.
Carpenter's most notable film was the 1978 horror classic "Halloween," which went on to become one of the most successful independent films of all time. Throughout his career, Carpenter has collaborated with numerous artists and celebrities, including Kurt Russell, who has appeared in several of his films, including "Escape from New York," "The Thing," and "Big Trouble in Little China," and the romantic comedy "Memoirs of an Invisible Man," starring Chevy Chase. He helped launched the careers for other popular celebrities as well including Jamie Lee Curtis, Adrienne Barbeau, and Donald Pleasence.
In addition to his work in film, Carpenter is also an accomplished musician. He has composed the scores for many of his films, including "Halloween," "The Fog," and "Escape from New York." His iconic scores have become just as famous as his films and have helped establish him as a true visionary in the entertainment industry.