 Satori
Actress Dominique Fishback has a dog named Satori that she got in early 2023. She hasn't shared any photos or info on her new pup, but she discussed her in an March 2023 interview with Elle Magazine.
Today, however, Fishback has a new task in her lap. A lively six-month-old puppy called Satori joins her on Zoom from her home in Los Angeles. 'She doesn't like being in her crate,' she smiles, looking a little exasperated. 'Her name is a Zen Buddhist word, which means a "sudden state of spiritual enlightenment". But then the first week I got her, I was crying to my mom that she's not [obedient]. My little sister said, "A sudden state of spiritual enlightenment maybe doesn't mean right away,"' she laughs.

Lena de Casparis interviewing Dominique Fishback, Elle Magazine, March 2023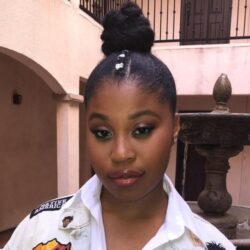 Birthday
March 22, 1991 (32)
Dominique Fishback is an American actress known for her powerful performances on stage, television, and film. She rose to prominence with her breakout role as Darlene in the HBO series "The Deuce," where she starred alongside James Franco and Maggie Gyllenhaal. Fishback's performance earned critical acclaim, and she quickly became one of Hollywood's most sought-after young actresses.
Throughout her career, Fishback has collaborated with several influential artists, actors, and creators, showcasing her versatility as an actress. She starred alongside Jamie Foxx and Joseph Gordon-Levitt in the 2019 film "Project Power," where she played the role of Robin, a young woman who teams up with Foxx's character to stop a dangerous drug from spreading.
Fishback's career is marked by several notable accomplishments. In 2017, she was nominated for a Lucille Lortel Award for her role in "Subverted" at the New Ohio Theatre. She also received critical acclaim for her performance in the off-Broadway production of "Blood at the Root" in 2016. Fishback is a graduate of Pace University, where she received a Bachelor of Fine Arts in acting.
She's most recently known for starring in Donald Glover's TV series "Swarm", alongside Chloe Bailey and Damson Idris.