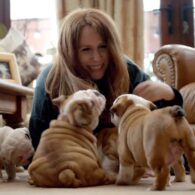 Saving the British Bulldog
In the BBC series, "Saving the British Bulldog", British actress Catherine Tate examines the alarming health issues afflicting British bulldogs, with their iconic flat faces, or brachycephalic appearance. These dogs face numerous health problems including skin infections, eye irritations, knee dislocations, and breathing difficulties. Approximately half suffer from brachycephalic obstructive airway syndrome (Boas). The breed's unusual form complicates natural breeding, with 86% of births requiring caesarian sections. Researchers discovered a mutation that continually shortens the dogs' faces, causing their health to deteriorate. To save the breed, crossbreeding with other breeds, a process called "outcrossing", is being explored, such as the healthier Leavitt bulldog, a crossbreed with longer muzzles and leaner bodies. The programme underscores the need for prospective bulldog owners to understand the health issues plaguing this breed.
Catherine Tate is a British comedian, actress, and writer who emerged as a prominent figure on the television landscape with her distinct comedic style. Known for her eponymous sketch comedy show 'The Catherine Tate Show', her captivating portrayal of Donna Noble in the beloved sci-fi series 'Doctor Who', she has left an indelible mark on the entertainment industry with her witty humour and versatile acting skills.
Tate's career launched into the public eye through the sitcom 'The Catherine Tate Show', which ran from 2004 to 2007. The sketch show, featuring her iconic characters such as the teenager Lauren Cooper and the grandmother Joannie Taylor, quickly gained popularity and became a cornerstone of British comedy. Her role in the iconic 'Doctor Who' series further established her position in the acting field. As Donna Noble, she not only demonstrated her ability to transition from comedy to drama but also showed the depth and versatility of her acting prowess.
Over the years, Catherine Tate has worked with a slew of renowned personalities across different genres and platforms. She appeared with David Tennant in 'Doctor Who', creating a memorable partnership that was later reprised in a series of audio dramas. Her collaboration with fellow comedian and actor, Matt Lucas, in 'Big School' further cemented her reputation in comedy. In addition, Tate worked with personalities such as Ricky Gervais, James Corden, Miranda Hart, Russell Tovey, Rob Brydon, Idris Elba, Peter Capaldi, and Adrian Lester in various roles, adding diversity and depth to her repertoire.
Tate's contribution to the television industry has been widely recognised. She bagged the National Television Award for Most Popular Comedy Performance for her role in 'The Catherine Tate Show' in 2006. She also received multiple BAFTA TV Award nominations for her performance in the same show, testifying to her tremendous talent. Tate's poignant portrayal of Donna Noble in 'Doctor Who' led to her being nominated for the Constellation Award for Best Female Performance in a 2009 Science Fiction Television Episode.