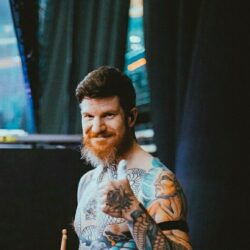 Birthday
May 31, 1980 (43)
Andy Hurley is an American musician, best known as the drummer for the multi-platinum selling rock band, Fall Out Boy. One of Hurley's breakout roles was as the drummer for the hardcore punk band, Race Traitor. He also played drums for the bands Enabler and The Damned Things. However, it was his work with Fall Out Boy that brought him mainstream success. Hurley joined the band in 2003, just before the release of their breakthrough album, "From Under the Cork Tree" (2005). The album was a commercial and critical success, catapulting the band to international fame.
Hurley's work with Fall Out Boy has been a milestone in his career alongside Joe Trohman, Pete Wentz, and Patrick Stump. He has played drums on all of the band's albums, including the hit albums "Infinity on High" (2007) and "Save Rock and Roll" (2013). The band's music has won them numerous awards, including multiple MTV Video Music Awards, Teen Choice Awards, and Kerrang! Awards.
Over the span of his career, Hurley has teamed up with numerous prominent artists, lending his percussion talents to various collaborative efforts. He's played drums for side projects such as The Damned Things, joining forces with musicians like Scott Ian of Anthrax and Keith Buckley of Every Time I Die. Additionally, he's been involved with Burning Empires, collaborating with artists like Geoff Rickly of Thursday and Vinnie Caruana of The Movielife. His versatility extends beyond these bands, having also made guest appearances on albums by James Dewees, known as Reggie and the Full Effect, and the acclaimed band, The Killers.