There's a new trend taking over social media: little critters scurrying around. From hamsters and hedgehogs to beavers and possums, these creatures are providing an adorable glimpse into their lives, and people can't get enough. Sure, celebrities may still be the biggest stars, but it's the little ones who are really stealing the show.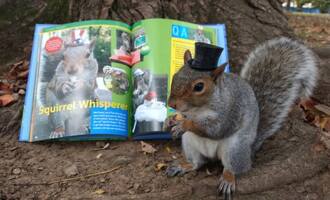 Did you know Penn State University has an unofficial mascot with 10 times the followers of their official mascot the Nittany Lion? Named Sneezy, she isn't just one of the many grey squirrels or students found in the area, she's become a symbol of school pride and unity. Several years ago, a new Penn state student named Mary Krupa befriended Sneezy and thought it would be cute to make her a little hat.
The pink fairy armadillo is the smallest species of armadillo in the world at 90–115 mm (3.5–4.5 in) long weighs about 120g. They have small eyes, silky yellowish white fur, and a flexible dorsal shell that only protects his top side. Because we only need protection from things that attack us from above.