 Baby Foe & Friend (Dog)
YBN Nahmir adopted two Bulldogs, one named Baby Foe, in November 2023. Breeding (Dog)
YBN Nahmir also breeds dogs at his place in Rancho Cucamonga. He typically shows off French Bulldogs, Micro American Bullies, English Bulldogs, and Cane Corso available for adoption, or maybe he's keeping them all to himself.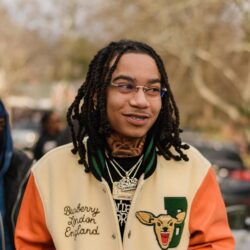 Birthday
December 18, 1999 (23)
YBN Nahmir, an American rapper and songwriter, gained prominence with his hit single "Rubbin Off the Paint."
Nahmir's journey into the limelight began with his breakout single "Rubbin Off the Paint," which went viral on YouTube and SoundCloud, catapulting him into mainstream success. This success was further solidified with the release of his mixtape "YBN: The Mixtape," which featured contributions from his YBN crew members. His debut studio album, "Visionland," showcased his growth as an artist, featuring a blend of energetic tracks and introspective lyrics.
Collaboration has been a cornerstone of Nahmir's career. He has worked with a variety of artists, including Ty Dolla Sign, City Girls, G-Eazy, Offset, 21 Savage, Wiz Khalifa, Chris Brown, Chance the Rapper, and Machine Gun Kelly. These collaborations have not only expanded his musical repertoire but also helped him reach a broader audience.
Nahmir's work has earned him significant attention. While he may not have a long list of traditional awards, his achievements are evident in his chart-topping tracks and the viral success of his music. His single "Rubbin Off the Paint" charted on the Billboard Hot 100, and his mixtape "YBN: The Mixtape" received widespread acclaim, further cementing his place in the music industry.