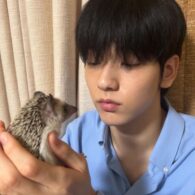 Odi
TXT leader Soobin had a Hedgehog named Odi. Soobin loved him like a tiny, spiky son and often shared updates and photos of him. He got Odi in April 2021 and first shared his new pet with fans via Twitter in June 2021. Odi sadly passed away in July 2023 due to an untreatable disease that paralyzed him.
Soobin is a member of South Korean K-pop boy group Tomorrow X Together, often referred to as TXT. His TXT bandmates include Yeonjun, Beomgyu, Taehyun, and Huening Kai. As the group's leader, Soobin has played an instrumental role in shaping the band's musical direction and establishing their identity in the K-pop world.
His work with TXT includes albums such as The Dream Chapter: STAR and Minisode1: Blue Hour. With tracks like "Crown" and "Can't You See Me?", Soobin's vocals offer a distinctive and memorable element, allowing the group to carve a unique space in the K-pop realm. Beyond the albums, his leadership and involvement in crafting the group's narrative arcs in their music videos and performances have been integral to TXT's storytelling approach.
Within the Big Hit Music circle, Soobin is friends with BTS, particularly with their leader RM. Outside this circle, Soobin and his group have shared moments with numerous artists such as ATEEZ, ITZY, and Stray Kids, during music programs and award ceremonies.
Soobin's leadership is considered pivotal in guiding TXT to multiple award wins. From securing the New Artist of the Year titles at esteemed ceremonies like the Melon Music Awards and Gaon Chart Music Awards to bagging Album of the Year with The Dream Chapter: MAGIC at the Golden Disc Awards, Soobin has consistently celebrated these milestones alongside his members. In 2023, TXT won the "Push Performance of The Year" at the MTV VMAs for "Sugar Rush Ride."