 No Pets (Scott Cawthon)
Scott Cawthon does not have any reported pets.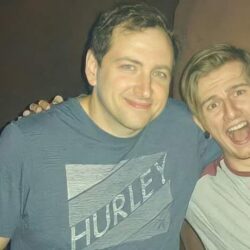 Birthday
June 4, 1978 (45)
Scott Cawthon is an American independent video game designer, developer, and animator, primarily recognized for his creation of the popular horror video game series, "Five Nights at Freddy's."
Cawthon's career skyrocketed with the release of the "Five Nights at Freddy's" series, which began in 2014. Prior to this blockbuster success, he dabbled in Christian-based animations and games like "Hope Animation." However, "Five Nights at Freddy's" was a pivotal moment, capturing the public's attention with its unique gameplay mechanics, eerie atmosphere, and complex lore. The game spawned numerous sequels, spin-offs, and even extended to a book series co-written by Kira Breed-Wrisley.
Cawthon worked with Kira Breed-Wrisley for the book adaptations of the game series, expanding its narrative into different media. Additionally, he teamed up with various voice actors like Andy Field, Heather Masters, and Christopher McCullough, among others, to bring life to his unsettling animatronic characters. While not a direct collaboration, YouTubers such as Markiplier and Dawko have been instrumental in popularizing the games through "Let's Play" videos. Business partnerships also play a role; companies like Scholastic and Funko have produced books and merchandise respectively. While not celebrities in the traditional sense, programmers and developers like Leon Riskin for music and Emil "Ace" Macko for fan games, have made significant contributions to the "Five Nights" universe.
Cawthon's "Five Nights at Freddy's" series has made a significant impact both commercially and culturally. The original game was praised for its originality and garnered several nominations for indie gaming awards.