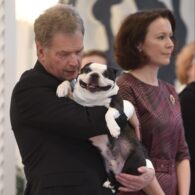 Lennu (Dog)
Lennu, a Boston Terrier and pet of Finnish President Sauli Niinistö and his wife Jenni Haukio, gained fame for his appearances in official events and social media. Born in 2011, Lennu's parents were from Germany and Estonia. He became a social media sensation in 2017 after American journalist Kelly Weil tweeted his photos, leading to features in "The Tonight Show Starring Jimmy Fallon" and a popular image manipulation challenge on Reddit. Lennu also inspired a pastry and was known for his playful interest in Christmas festivities. However, due to health concerns common in blunt-nosed dogs, President Niinistö limited Lennu's public appearances from 2020. Sadly, Lennu passed away in May 2021 due to a pituitary gland tumor[1].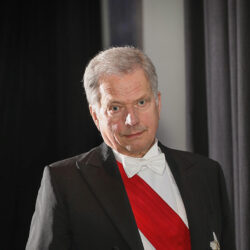 Birthday
August 24, 1948 (75)
Sauli Niinistö is a Finnish politician, currently serving as the President of Finland. His career, marked by significant roles in Finnish politics, began to gain prominence with his appointment as the Minister of Justice in 1995. Niinistö's tenure in this role was notable for his efforts in overhauling the Finnish legal system, particularly in the areas of criminal law and judicial administration.
Niinistö's political journey saw a significant shift when he was appointed as the Minister of Finance in 1996. In this capacity, he played a pivotal role in managing Finland's economy, especially during the challenging times of the late 1990s. His policies and reforms were instrumental in stabilizing the Finnish economy and preparing it for the introduction of the Euro in 2002. Niinistö's tenure as the Minister of Finance is often cited as a key period in his career, showcasing his ability to handle complex economic challenges.
Throughout his career, Niinistö has collaborated with numerous key figures in both Finnish and international politics. These collaborations include working with Tarja Halonen, the former President of Finland, and Alexander Stubb, a notable figure in Finnish politics. Internationally, he has engaged with leaders such as Angela Merkel, the Chancellor of Germany, and Vladimir Putin, the President of Russia. These interactions highlight Niinistö's role in shaping Finland's foreign policy and his influence in international diplomatic circles.
Niinistö's career has been marked by several awards and distinctions. He was awarded the Grand Cross of the Order of the White Rose of Finland, one of the highest honors in the country. Additionally, his contributions to Finnish politics have been recognized through various other honors and titles, reflecting his significant impact on the nation's political landscape.