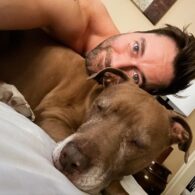 Jodie
Growing up in a home full of pets, Ryan Eggold's affinity for animals, particularly dogs, was cultivated early on. "My parents were animal lovers," Eggold reminisces, sharing anecdotes about the family's assortment of pets, which included everything from dogs to a pet snake and a rat. However, it was Bucks, their first family dog, a shelter rescue, that left a lasting impression on him.
This love for dogs ultimately led Eggold to adopt a Staffordshire terrier, Jodie, from a shelter. Beyond his personal life, Eggold is a committed advocate for animal rights.
He lends his voice to Clear The Shelters™/Desocupar Los Albergues®, a nationwide pet adoption initiative led by NBCUniversal Owned Television Stations. When he asks, "how can I help?" it's not just talk. Eggold actively contributes to the cause, demonstrating his passionate commitment to animal welfare. His dedication shows that he's not just an advocate, but a beacon for those who cannot speak for themselves.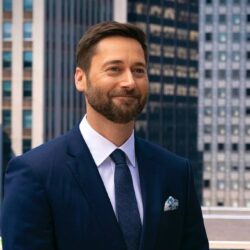 Birthday
August 10, 1984 (39)
Ryan Eggold, an American actor, is primarily recognized for his compelling roles in popular TV series like "90210" and "The Blacklist." Known for his captivating performances, Eggold has carved out a unique niche in the competitive realm of television and film.
Eggold made his acting debut in the television series "Related," playing a relatively minor role. However, his breakout role came as teacher Ryan Matthews in the teen drama series "90210," a spinoff of the popular 1990s show "Beverly Hills, 90210." His character, a caring and dedicated teacher with a troubled past, garnered much attention. Later, Eggold's career took a thrilling turn with his portrayal of Tom Keen in the NBC crime thriller series "The Blacklist," a role that spanned seven years. He would later reprise this character in a short-lived spinoff series "The Blacklist: Redemption." Beyond television, Eggold has showcased his versatility in independent films such as "Lucky Them" and "Lovesong," receiving praise for his nuanced performances.
Throughout his career, Eggold has had the opportunity to collaborate with an array of talented individuals. On "90210," he worked alongside Shenae Grimes-Beech and Tristan Wilds, while his role in "The Blacklist" allowed him to share the screen with heavyweights like James Spader and Megan Boone. In "Blacklist: Redemption," he collaborated with Famke Janssen and Edi Gathegi. His foray into film also facilitated collaborations with acclaimed actors such as Toni Collette and Johnny Depp in "Lucky Them," and Jena Malone and Riley Keough in "Lovesong."
Eggold's contributions to television and film have not gone unnoticed. His performance in "The Blacklist" earned him a Saturn Award nomination for Best Supporting Actor on Television in 2015, demonstrating his prowess and the impact of his portrayal of Tom Keen. Furthermore, his role as Dr. Max Goodwin in the medical drama "New Amsterdam" led him to receive a nomination for Best Actor in a Drama Series at the 2019 Satellite Awards.