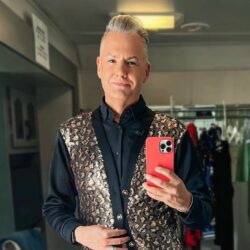 Birthday
September 24, 1979 (44)
Ross Mathews is an American television personality, comedian, and author known for his witty humor and infectious personality. He has made a name for himself in the entertainment industry through his numerous appearances on television shows, his collaborations with other artists and celebrities, and his advocacy for animal welfare causes. He's most recently known for appearing on "The Drew Barrymore Show."
Mathews first gained national attention as a correspondent on "The Tonight Show with Jay Leno," where he showcased his talent for comedy and his ability to connect with people from all walks of life. He later went on to become a regular guest on several other popular talk shows, including "Chelsea Lately," "The View," and "The Wendy Williams Show."
In addition to his work on television, Mathews has also made a name for himself as an author. He has written several books, including the New York Times bestseller "Man Up!: Tales of My Delusional Self-Confidence," which chronicles his journey from a small-town kid in Washington to a successful TV personality in Hollywood.
Throughout his career, Mathews has collaborated with a diverse range of artists and celebrities, including actress Gwyneth Paltrow, singer Kelly Clarkson, and comedian Kathy Griffin. He has also been a frequent guest on the reality competition show "RuPaul's Drag Race," where he has served as a judge and mentor to aspiring drag queens.
Mathews is also a passionate advocate for animal welfare. He has been involved in several campaigns to raise awareness of animal cruelty and promote responsible pet ownership, and has worked closely with organizations like the Human Society and the Vanderpump Dog Foundation.