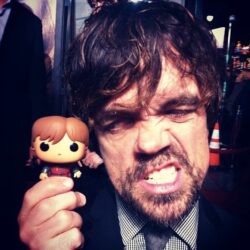 Birthday
June 11, 1969 (54)
Peter Hayden Dinklage is an American actor. Best known for his portrayal of Tyrion Lannister on HBO's Game of Thrones, he has an estimated net worth of $10 million. He became interested in acting at a young age and had his first theater role in fifth grade. Following theater productions through college and an attempt at launching a theater company, he moved onto screen acting in the mid-90s.
His first feature film role was in 1995's Living in Oblivion, where he plays a frustrated actor with dwarfism who's tired of his stereotypical roles. His breakout role came in 2003 with The Station Agent, which earned him several award nominations. Other notable roles include Elf with Will Ferrell, Pixels with Adam Sandler and X-Men: Days of Future Past with Hugh Jackman, Jennifer Lawrence and Patrick Stewart.
He has starred as Tyrion Lannister in Game of Thrones since 2011, which has earned him a Golden Globe and two Primetime Emmy Awards for his role. With Game of Thrones entering its 7th season in 2017, Dinklage is now considered one of the highest earning actors on TV with an estimated salary of $1.1 million per episode.
Along with Kevin his rescue dog, Dinklage is also an animal rights advocate. He supports Farm Sanctuary's Walk for Farm Animals and Cruelty Free International.