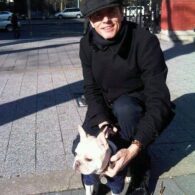 Animal Life
John Taylor's life has been enriched by the companionship of various pets. Speaking to People Magazine in a 2012 interview, he revealed the emotional difficulty of touring, primarily due to the distance from his beloved animals. Among his furry friends are a spirited Chihuahua and a graceful Chinese Crested. His English residence was once graced by the presence of peacocks, though they faced the perils of nature, with local foxes posing a threat. A peacock chick did survive under his care. Additionally, Taylor's nurturing spirit extended to rescuing ducklings from the icy grip of a pond, although, in a twist of fate, one fell prey to a rook.
In later years, Taylor continued to adopt more dogs. Pictured here is one we believe is named Hugo.
John Taylor is a British musician celebrated as the bass guitarist for the new romantic band Duran Duran, a group he helped to establish. His career with Duran Duran saw the band ascend to global prominence in the 1980s, bolstered by their innovative music videos that became staples on MTV. Beyond his foundational role in Duran Duran, Taylor has ventured into solo projects and film.
Taylor's influence in the music industry is not limited to his work with Duran Duran. His solo endeavors include a dozen releases under his private label, B5 Records, and a notable presence in the film industry with a lead role in "Sugar Town." His return to Duran Duran in 2001 after a brief hiatus marked a significant moment, reuniting the original lineup and sustaining his tenure with the band well into the 21st century. Taylor's musical journey also includes his participation in supergroups The Power Station and Neurotic Outsiders.
Collaboration has been a hallmark of Taylor's career, working alongside a myriad of artists that have shaped his journey. He joined forces with Duran Duran guitarist Andy Taylor, drummer Tony Thompson, and singer Robert Palmer to form The Power Station, producing hits that resonated with fans worldwide. His solo single "I Do What I Do…" for the "9½ Weeks" soundtrack was a collaborative effort with Jonathan Elias. In Duran Duran, Taylor's rhythm section partnership with drummer Roger Taylor (no relation) was foundational to their sound. His musical influences include the likes of Bernard Edwards of Chic and Paul Simonon of The Clash, as well as Paul McCartney and James Jamerson. The reformation of Duran Duran for the "Notorious" album and subsequent work in the 1990s saw new collaborations with guitarist Warren Cuccurullo, further diversifying his musical associations.
Taylor's career is punctuated with numerous milestones and recognition. His work with Duran Duran earned the band two Grammy Awards in 1984 for Best Music Video, Long Form, and Best Music Video, Short Form. The band's star on the Hollywood Walk of Fame, awarded in 1993, stands as a testament to their enduring impact on music and culture. Taylor's contributions to the band's success, as well as his solo achievements, have cemented his place in the annals of music history.