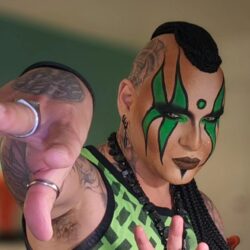 Birthday
February 22, 1974 (49)
Nina Flowers is a Puerto Rican drag queen, DJ, activist, and makeup artist, who gained widespread attention as the runner-up on the inaugural season of "RuPaul's Drag Race."
Nina Flowers' career in entertainment soared after her stint on "RuPaul's Drag Race," where her unique aesthetic and fierce performance skills captivated audiences. She quickly found herself in demand, spinning records at esteemed nightclubs and music festivals. Not content with being a one-trick pony, she also released her own music, including the dance hit "Loca," which achieved significant airplay and charted well within its genre.
Over the years, Nina Flowers has partnered with a plethora of artists, musicians, and drag queens to create memorable moments in the entertainment industry. To name a few: RuPaul, the godmother of the drag world, has been a recurring figure in her career, as well as drag queens like Bebe Zahara Benet, Shannel, and Ongina from her season. In the music industry, she's worked with DJs such as Victor Calderone, Chus & Ceballos, and Peter Rauhofer. Her collaborations extend to Jose Antonio Vargas and Cleve Jones, both prominent figures in the fight for LGBTQ+ rights. Even mainstream celebrities like Whoopi Goldberg and Rosie O'Donnell have joined her on-stage, evidencing her crossover appeal.
Nina Flowers was awarded the title of "Miss Congeniality" during her season on "RuPaul's Drag Race." She has also been nominated for multiple awards for her DJing skills, and has received commendations for her contributions to activism and LGBTQ+ representation in mainstream media.