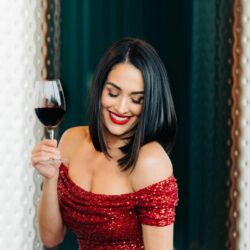 Birthday
November 21, 1983 (40)
Nikki Bella is a media personality in the world of entertainment, known for her groundbreaking roles, notable accomplishments, and high-profile collaborations. As a former professional wrestler and reality television star, Nikki Bella gained popularity through her appearances on the WWE (World Wrestling Entertainment) and Total Divas, where she showcased her talent and captured the hearts of millions of fans. In more recent years, she became known as Nikki Garcia.
In 2015, she won the Divas Championship, marking a major milestone in her career and cementing her place as one of the top female wrestlers in the industry. She also competed in several high-profile matches, including WrestleMania 33, where she and her twin sister Brie Bella defeated Maryse and The Miz in a mixed tag team match.
Nikki's success in the WWE led to several notable collaborations with other celebrities and influential people. In 2017, she appeared on the popular reality competition show Dancing With The Stars, where she partnered with professional dancer Artem Chigvintsev and finished in seventh place. She also made guest appearances on shows like Ridiculousness and Psych, further expanding her reach and influence.
In 2018, she and her sister Brie Bella launched Birdiebee, a lifestyle brand that promotes female empowerment and animal advocacy. A portion of the proceeds from Birdiebee goes to support animal charities and rescue organizations.
Nikki Bella's relationship with John Cena was highly publicized and garnered significant media attention. The couple met while working together in the WWE and began dating in 2012. They split in 2018.