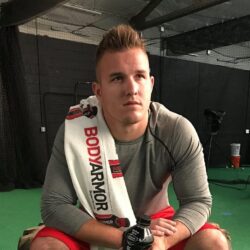 Birthday
August 7, 1991 (32)
Mike Trout is an American professional baseball player, recognized for his exceptional performance as a center fielder for the Los Angeles Angels of Major League Baseball. One of Trout's most notable career highlights is his 2012 season, during which he achieved a rare feat known as a 30-30, hitting 30 home runs and stealing 30 bases in a single season. This performance not only solidified his status as one of baseball's most promising players but also placed him among the elite group of athletes who have achieved this milestone.
Throughout his career, Trout has had the opportunity to work alongside a plethora of respected athletes and sports personalities. This includes teammates such as Albert Pujols, Shohei Ohtani, and Anthony Rendon. He has also crossed paths with influential figures outside his team, such as Derek Jeter, Miguel Cabrera, and Aaron Judge.
Over the years, Trout has been recognized for his exceptional skills and contributions to the sport through numerous awards and recognitions. In 2014, he received the coveted Most Valuable Player (MVP) award in the American League, a feat he repeated in 2016 and 2019. In addition to his MVP awards, he has been selected as an All-Star multiple times.
Off the field, Trout is a passionate advocate for animal welfare. He has used his platform to raise awareness for pet adoption and has partnered with various animal shelters and rescue organizations in Los Angeles and his home state of New Jersey.