 No Pets (David Montgomery)
David Montgomery does not have any reported pets.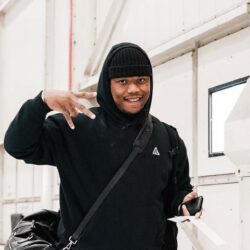 Birthday
June 7, 1997 (26)
David Montgomery is an American football running back known for his impactful career with the Chicago Bears and the Detroit Lions in the NFL.
Montgomery's career took a notable turn when he joined the Chicago Bears. His debut season in 2019 showcased his potential as a running back, with impressive performances against teams like the Denver Broncos and the Los Angeles Chargers. His ability to gain crucial yards and score touchdowns quickly made him a key player for the Bears. The 2020 season saw Montgomery solidify his position as the team's featured running back. Despite challenges, including a concussion, he demonstrated resilience and skill, notably with a career-high 146 yards against the Minnesota Vikings and surpassing 1,000 rushing yards for the season. In 2021, despite an injury setback, he continued to be a significant contributor to the Bears' offense.
Montgomery's career is also notable for his collaborations with various key figures in the NFL. He has worked closely with quarterbacks Mitchell Trubisky and Nick Foles, enhancing the Bears' offensive strategies. His coordination with fellow running backs like Tarik Cohen and Damien Williams has been vital in creating a dynamic offense. Wide receivers Allen Robinson and Darnell Mooney have benefited from Montgomery's versatile play style. His interactions with coaches Matt Nagy and Bill Lazor have been instrumental in his development. The offensive line, including players like Cody Whitehair and James Daniels, has played a crucial role in Montgomery's success on the field.