 No Pets (Leah Mei Gold)
Leah Mei Gold does not have any reported pets.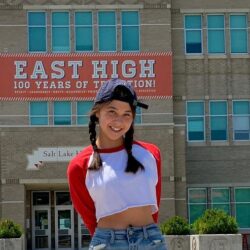 Birthday
February 23, 2007 (16)
Leah Mei Gold is an American actress and voice actress best known for her role as Sid Chang in "The Casagrandes."
Gold's career is highlighted by her voice work in Nickelodeon's "The Casagrandes" and "The Loud House," where she brings to life the character of Sid Chang. Her performance captures the energetic spirit of the animated series, contributing to its popularity among audiences. Additionally, she appears in the live-action series "Side Hustle."
Collaboration is a cornerstone of Gold's career. She works alongside Izabella Alvarez, who voices Ronnie Anne Santiago, and Carlos PenaVega, who lends his voice to Bobby Santiago in "The Casagrandes." In "The Loud House," she joins a cast that includes Asher Bishop as Lincoln Loud and Catherine Taber as Lori Loud. Her role in "Side Hustle" sees her acting with Jules LeBlanc and Jayden Bartels, further expanding her network of creative partnerships.