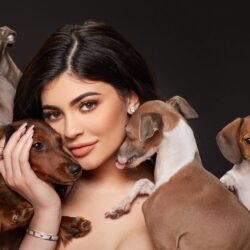 Birthday
August 10, 1997 (25)
Kylie Kristen Jenner is best known simply as Kylie Jenner. Jenner's also known for her love of Italian Greyhounds. She's famous for being an American reality television personality, socialite and model turned business woman. She is best known for appearing on the E! reality television series Keeping Up with the Kardashians with Kim Kardashian, Kris Jenner, Khloe Kardashian, and Kourtney Kardashian. In 2014, Time magazine listed the Jenner sisters on their The 25 Most Influential Teens of 2014 list. The Jenner Sisters include Kendall Jenner and Kylie Jenner.
Business and Controversy
Jenner started in fashion early with the line "Kendall & Kylie" in 2014. The collaboration with PacSun and sister Kendall Jenner happened when Kylie was just 14 years old. in 2015, Jenner launched Kylie Lip Kits, rebranded as Kylie Cosmetics the following year.
In 2014 and 2015, Time magazine listed the Jenner sisters on their list of the most influential teens in the world, largely for their huge following on social media and resulting influence on younger generations. In 2017, Jenner was placed on the Forbes Celebrity 100 list, making her the youngest person to be featured on the list. Other celebrities on the list included Sean 'Diddy' Combs, Beyoncé, Drake, The Weeknd, and athletes such as Cristiano Ronaldo.
Jenner starred on her own spin-off series called Life of Kylie which premiered on E! in 2017. In November 2018, New York Post called her the most influential celebrity in the fashion industry. In 2019, Forbes cited her net worth at $1 billion, making her the youngest self-made billionaire. The "self-made" title did not land well, and articles and outcry about Jenner's privilege were abundant. Then, in May 2020, Forbes accused Jenner of forging tax documents — apparently, she had never been a billionaire. After Jenner sold 51% of shares to Kylie Cosmetics to beauty giant Coty in a deal valued at $1.2 billion, the truth came out. Coty, as a publicly traded company, showed that the beauty business' success was largely inflated. Now, it appears Forbes and the Jenner's are in a bit of a feud over Kylie's billionaire status.
Jenner's been in hot water before, too. The Rock vs Rap collection featured a line of vintage T-shirts depicting rock and rap artists, like Biggie Smalls, Tupac, and Jim Morrison with the Jenner's faces superimposed over them. They were met with backlash and a cease and desist letter from The Doors' manager. She has also been accused of cultural appropriation and underpaying factory workers.
Kylie Jenner's Pets
Kylie's known to love Italian Greyhounds. As of February 2021, she has nine dogs in her household. The newest dog is named Kevin and is a grey and white puppy. Jenner's come under fire for constantly adding new animals to her roster of pets — people are wondering, what's happening with the old animals? Are they still around? Does Jenner have a house full of dogs? This Reddit thread shows fans questioning whether or not this new addition is a good idea.
Kylie's built her dogs a "guest house" so apparently they do not live in the same house as her. But, don't be fooled, the dogs' guest house is boujier then most peoples' homes. It comes with heating and air conditioning, naturally, and a white picket fence with a little porch. We wonder how it compares to Paris Hilton's doggie mansion?