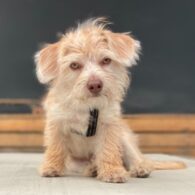 Wynnston (Dog)
Jo Koy's second dog is a puppy he got in September 2020 that's a Malchi (Maltese – chihuahua mix). Via his Instagram, he loves his red ball and travelling. He also likes to pee on a pee pad and poop on cold tiles inside his house. Wynnston is noted for having similar hazel eyes to Jo Koy, as well as Kelly Clarkson, as seen in the video below.
Joseph Glenn Herbert Sr, known professionally as Jo Koy, is a Filipino-American comedian and actor. He's best known for touring as a stand-up comedian and his stand-up comedy specials. This includes the specials Don't Make Him Angry and Lights Out for Comedy Central. For Netflix, he's released four specials: Live From Seattle, Comin' In Hot, In His Elements, and an upcoming 2022 special. In 2005, he gained national attention for being one of only a few comics to receive a standing ovation for his performance on The Tonight Show with Jay Leno. He's also known for making over 100 appearances on comedian Chelsea Handler's show Chelsea Lately, as well as dating her for a year, ending in July 2022.
Jo Koy's journey through the world of comedy is a tapestry woven with collaborations with some of the industry's biggest names, each partnership adding a unique thread to his colorful career. An early break came in 2005 when he appeared on The Tonight Show with Jay Leno, his infectious humor caught the attention of the late-night host, and this exposure elevated his career. Koy's relationships with fellow comedians also yielded fruitful collaborations, notably his recurring guest spots on Chelsea Lately from 2007 to 2014, where he engaged in hilarious banter with Chelsea Handler and the show's roundtable of comedians. This collaborative camaraderie was echoed in his contributions to Adam Carolla's podcast The Adam Carolla Show from 2011 onward. In the same vein, he lent his comedic talents to Howie Mandel's Howie Do It in 2008, providing his own unique twist on the prank show format.
Through his comedic journey, Jo Koy has collected a number of awards and distinctions that are a testament to his enduring popularity and comedic prowess. One such distinction was the prestigious title of Stand-Up Comedian of the Year awarded by Montreal's Just for Laughs Comedy Festival in 2018. In the same year, Koy's comedy album "Live from Seattle" was named Comedian's Best Comedy Album, marking a career highlight. This followed his impressive feat in 2009, when he sold out an unprecedented four nights at the renowned Neal Blaisdell Concert Hall in Honolulu. This feat led to the "Jo Koy Day" proclamation by the mayor, an extraordinary distinction recognizing Koy's exceptional contributions to comedy.