 Cats and Chickens (Cat)
In a discussion about her 2022 film, Paradise Highway, Hala revealed she's a proud owner of an astonishing 40 pets! The majority are chickens, numbering 36, and she also shares her home with four cherished family cats.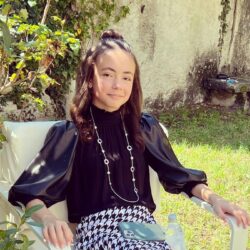 Birthday
May 18, 2009 (14)
Hala Finley is an American actress primarily known for her role as Emme Burns in the CBS sitcom "Man with a Plan," where she shared the screen with actor Matt LeBlanc.
Finley's body of work has a focus on the realm of television, where she has gained recognition beyond "Man with a Plan." Her television credits include significant parts in shows like "Back in the Game" and "We Make That Lemonade." Though primarily anchored in TV roles, Finley has also branched out into film with projects such as "Lights Out," a 2016 horror movie, as well as the family drama "Hope Springs Eternal."
Collaborating with other professionals has been a staple in Finley's career. Sharing the screen with Matt LeBlanc in "Man with a Plan" was a significant partnership, as was working with James Caan and Maggie Lawson in "Back in the Game." Additionally, she has worked with Maria Bello in "Lights Out," Mia Rose Frampton in "Hope Springs Eternal," and Swoosie Kurtz in "Man with a Plan." Grace Kaufman, Matthew McCann, Liza Snyder, and Kevin Nealon have also been among her co-stars in various television projects, making her no stranger to ensemble casts.