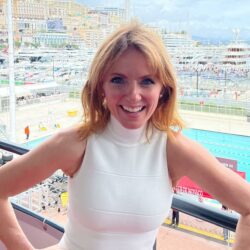 Birthday
August 6, 1972 (50)
Geri Halliwell, also known as Ginger Spice, is a British singer, songwriter, actress, and author. Halliwell rose to fame in the 1990s as a member of the Spice Girls, one of the best-selling girl groups of all time alongside Emma Bunton, Victoria Beckham, Melanie C and Mel B.. Since then, she has released several solo albums, acted in films and television shows, and authored a series of children's books.
One of the milestones in Halliwell's career was her time with the Spice Girls. The group was formed in 1994 and quickly rose to international fame with their debut single "Wannabe." Halliwell's distinctive vocals and charismatic stage presence helped to make the Spice Girls one of the most successful musical acts of the 1990s. The group went on to sell over 85 million records worldwide, becoming one of the best-selling girl groups of all time.
In addition to her work with the Spice Girls, Halliwell has collaborated with a number of other artists and celebrities over the years. She has worked with singers such as Robbie Williams and Chris Martin. Halliwell has also been involved in a number of charitable and philanthropic efforts, including the fight against breast cancer and the support of children's charities.