Jinxy
Jinxy, Eva Longoria's Maltese, passed away June 2018. He was well-loved and is survived by his brother Popeye, the Frenchie.
Photo Credit: Parade.com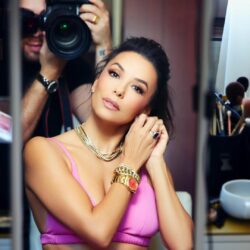 Birthday
March 15, 1975 (48)
Eva Longoria is an American actress, producer, director, activist, and businesswoman. She first got her breakthrough in Hollywood with her role on The Young and the Restless (2001-2003). Longoria later became a household name for her role as Gabrielle Solis on the ABC television series Desperate Housewives (2004-2012).
Longoria has also appeared in The Sentinel (2006), Over Her Dead Body (2008), For Greater Glory (2012), Frontera (2014), Lowriders (2016) and Overboard (2018). Shes appeared in numerous advertising campaigns and holds modeling contracts with L'Oréal, Hanes, and New York & Co, amongst others.
Longoria is married to Jose Baston. The two have four children (three of which are from Baston's first marriage) Sebastian, twins Natalia and Mariana, and Santiago Enrique (Longoria's first biological child).