 No Pets (Erna Solberg)
Erna Solberg does not have any reported pets.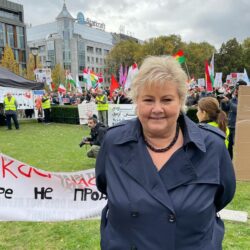 Birthday
February 24, 1961 (62)
Erna Solberg is a Norwegian politician who has notably served as the country's Prime Minister, leaving an indelible mark in the political realm. Throughout her tenure, she steered Norway through significant economic and societal changes, overseeing important policy shifts and reforms that aimed to benefit the nation at large.
Solberg's political journey is characterized by numerous leadership roles and significant policy contributions. She notably helmed the Conservative Party (Høyre) and played pivotal roles in policy developments in areas like education, security, and health. Moreover, during her term as Prime Minister, Norway experienced strengthened ties with NATO, marked economic growth, and robust action against climate change.
Over the years, Erna Solberg has collaborated and interacted with a range of global leaders and influencers. Among them are Angela Merkel, the German Chancellor, with whom she shared many dialogues on European policies; Justin Trudeau of Canada, discussing bilateral ties and global challenges; Narendra Modi of India, focusing on trade and environment; Emmanuel Macron of France, deliberating on global security; and Theresa May, the UK's former Prime Minister, where Brexit and its implications were central topics. She's also engaged with the likes of Donald Trump, Vladimir Putin, Jacinda Ardern, Shinzō Abe, and Moon Jae-in, ensuring Norway's voice and stance were well-represented on the international stage.
Throughout her career, Solberg has been recognized for her steadfast leadership and vision. Under her guidance, Norway was elected to the UN Security Council for the term 2021-2022. She's also been a recipient of international honors, such as the World Leader in Girls' Education award presented by the Malala Fund, highlighting her commitment to gender equality and education.